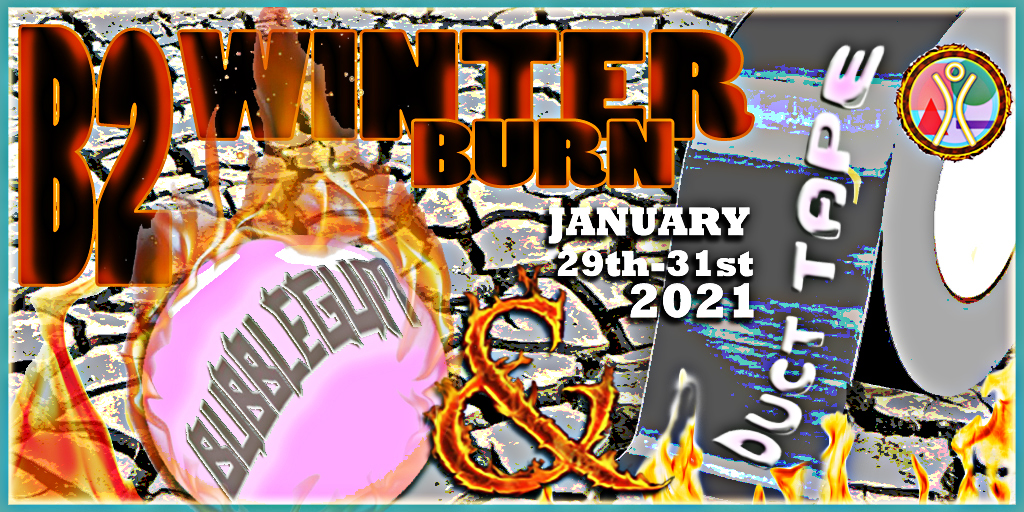 What Sticks Together? Bubble Gum & Duct Tape
We start out this year with a fun, whimsically themed Winter Burn event set for January 29th - 31st, "Bubble Gum & Duct Tape." When you think about it, it's a perfect fit for a community of Burners who center everything they do around the Ten Principles of Burning Man.
When you arrive, you will find a welcome area, with instructional signs for newcomers to SL, and gifts from the community. Walk through a tunnel-like Gate area, to get to the playa. Things will start off with a walk-on by the Lamplighters; everyone is welcome to walk alongside, going from the Gate around the playa and arriving at the Main Stage to give things a good, fiery start. There is a great lineup of performers coming to fill the playa with their gifts of music and talent. Everywhere you look, you'll find art.
Friday 29 January
DJ Maia
DJ Dolly
DJ Azrael
DJ Lilith
DJ Shiny
Saturday, 30 January
DJ Madog
DJ Shimada
Martyn Bates II
Fashionistas @ Burn2
DJ Wayvz
ChangHigh Sisters of Light, Life & Love
DJ Puddles & the Space Unicorn
Milan Zepp
Janjii Nataraj - Belly Dancing Workshop
Damon Welles
FAUX
DJ Shutterbug
DJ Sab
Sunday, 31 January
Frankly D
DJ Grease
Martyn Bates II
BURN! at 10 AM SLT
A Limb
DJ Spitfire
~DRUM~
~Vampink Show~
BURN! at 5 PM SLT
DJ Pietor
DJ Temptation
rapa
Along with enjoying these great music acts, you can grab an art car from one of the rezzers, or take a little couch tour around the place. Bring friends, dance at the stage, ice skate, meditate while watching a mirror ball floating inside a cube. Just explore the place and observe the many ways that things can stick together.