Check here for quick updates during our events.
Welcome to 2021!
This year started off with a fundraising event called Unplugged, a day-long party of acoustic music on the 28th of January. Some of the best acoustic, live performers on the SL grid will gift their tunes to the community on the virtual playa in Deep Hole! Be sure to join us.
Winter Burn brought a whimsical twist with its theme, "Bubble Gum & Duct Tape" - we'll have performances all weekend, art installations and camps all around and no shortage of fun to be had.
Burnal Equinox saw another fun theme, "Roaring 3020s," a futuristic exploration of the exuberant days of speakeasies and flapper fringes.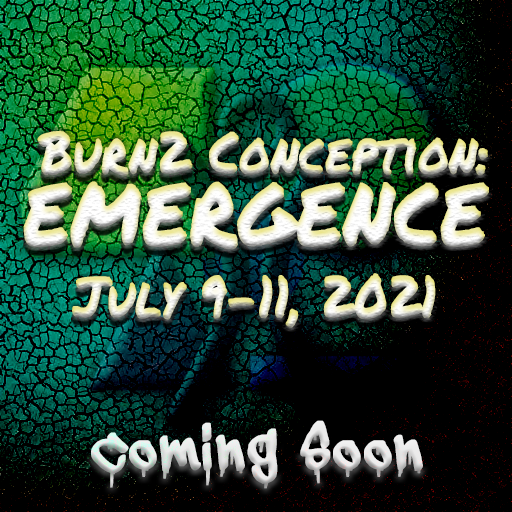 Conception is coming (July 9-11)! Planning is underway for that, as well as for Burnstock (July 23-25) and our regional's participation in Burning Man's Virtual Burn 2021 (August 29 - September 5). It's going to be a busy summer!
The year's events will culminate with our own "big burn" echo of Black Rock City, Octoburn: "The Great Unknown", (October 8-17), closing that out with a final Skin Burn (October 30). Stay tuned for more on that, too!

Strutting Their Stuff: The Burn2 Fashionistas Here is a brief history about the Fashionistas and how they became a popular feature at Burn2 events in the virtual world known as Second Life®. Prior to 2017, there was no formally organised group of fashionistas in...
read more
Mark your calendar and join in - as an artist, a performer, or a participant - you won't be a bystander in any case!
Conception: July 9-11, 2021
Theme: Emergence
Burnstock: July 23-25, 2021
Virtual Burn 2021: August 29 - September 5, 2021
Octoburn: October 8-17, 2021
"The Great Unknown"
Skin Burn: October 30, 2021
New to Burn2?
Getting Started
Below are a pair of video tutorials to help you get started. More details can be found on this page.
For New Users in Second Life
How to Sit, Chat, Pose, and Walk with Your New Avatar