Check here for quick updates during our events.
Welcome to 2021!
We are starting off the year with a fundraising event called Unplugged, a day-long party of acoustic music on the 28th of January. Some of the best acoustic, live performers on the SL grid will gift their tunes to the community on the virtual playa in Deep Hole! Be sure to join us.
Winter Burn brings a whimsical twist with its theme, "Bubble Gum & Duct Tape" - we'll have performances all weekend, art installations and camps all around and no shortage of fun to be had.
Burnal Equinox has another fun theme, "Roaring 3020s," a futuristic exploration of the exuberant days of speakeasies and flapper fringes.
Read on for more details, mark your calendars and plan to participate - as an artist, a performer, or a participant - you won't be a mere bystander in any case!
Burn2 Unplugged
January 28, 2021
This is a fundraiser event to benefit Burn2! We are nonprofit as a regional of Burning Man. This event will feature acoustic performers, with a solid slate starting at 11:00 AM SLT and ending at 9:00 PM SLT. Come enjoy great tuneage and fun with friends!
SCHEDULE:
11 am slt/pst - Wolfie Starfire
12pm slt/pst - Kitzie Lane
1pm slt/pst - Suzen Juel
2pm slt/pst - Zorch & Lexie
3pm slt/pst - Gypsy Dhura
4pm slt/pst - Reno Jones
5pm slt/pst – Thunderfoot
6pm slt/pst - Fly
7pm slt/pst - Twostep Spiritweaver
8pm slt/pst - Grace Loudon
Location will be given closer to the event.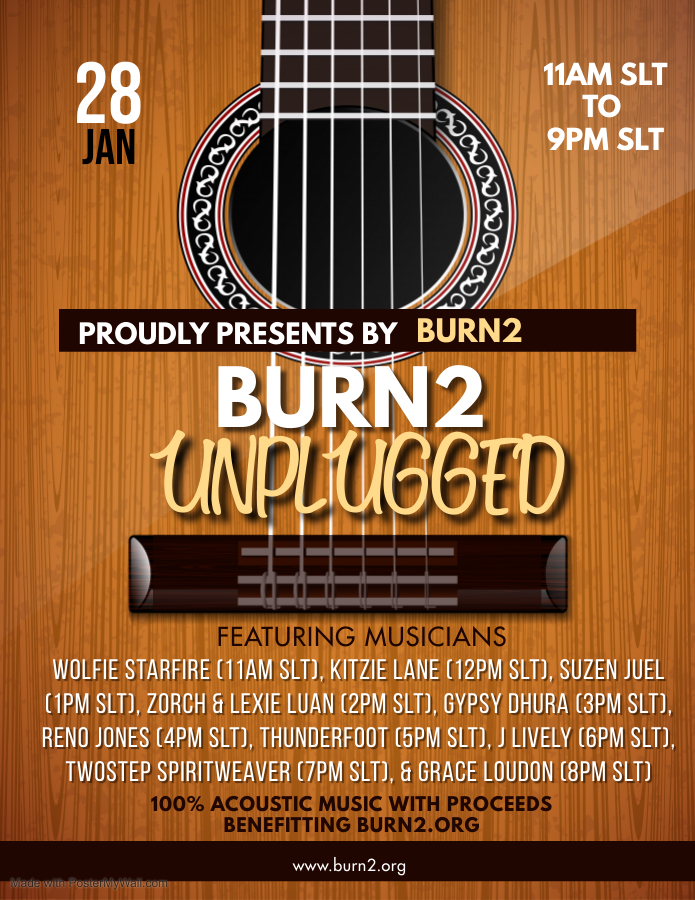 Winter Burn: Bubble Gum & Duct Tape
January 29-31, 2021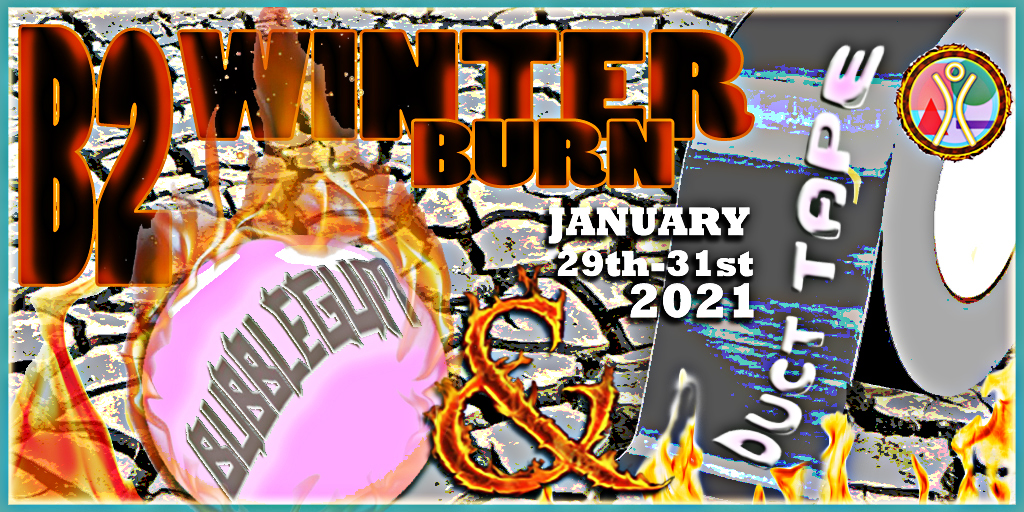 With Winter Burn we welcome 2021 buoyed by a measure of hope and optimism, perhaps with a touch of caution. The Ten Principles serve as our framework for how we want to live and do things together, and so we chose a theme: Bubble Gum & Duct Tape.
Which of the Ten Principles come to mind when you see this theme we've chosen? Burners are endlessly creative, sometimes irreverent, wildly expressive. But this time, we mean to inject a bit of light-heartedness into this theme and not just 'how many ways you can apply the Ten Principles' to your performance, art or participation in this event.
When you ponder this theme, think about what makes things stick together, if it helps. Love, support, respect, chain, a guy rope, tie, wire, clasp, screws, nails, bandage, cord, harness ... and of course, Bubble Gum and Duct Tape. Basically, think outside of the box, beyond bubble gum & duct tape.
Burnal Equinox: Roaring 3020s
April 9-11, 2021
As one Burner put it, "Roaring 20's with 1920s done futuristically."
For this Burnal Equinox event, we're taking the best of the 1920s and bringing them forward into the future, the 3020s! Let your imagination run a bit wild for this one!
More Details
Stay tuned - the planning committee are always coming up with ideas and plans. We'll keep you posted!
New to Burn2?
Getting Started
Below are a pair of video tutorials to help you get started. More details can be found on this page.
For New Users in Second Life
How to Sit, Chat, Pose, and Walk with Your New Avatar