From 2014-05-06
Welcome to CONCEPTION 2014!
Check out the Performance Schedule
Check out the Artist Build Descriptions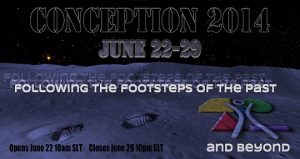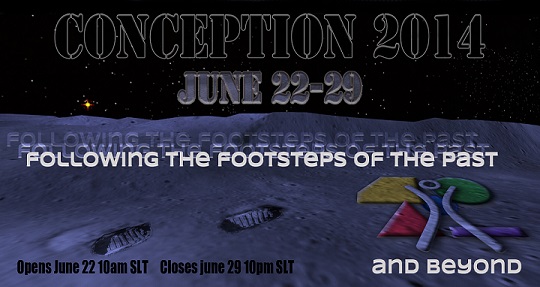 Conception – a time to celebrate beginnings, and a time to celebrate the future, whether it is that of Burning Man, our experience with it, or the people we have and will come to know through it. How did we find these crazy folk we call Burners, how did we become Burners, and do we see a future Burning bright?
Sometimes it is good to look back at where we came from, so we can see how far we have come. A long, long, long, long, long time ago where we live now, looked much like our moon. So as we look back at the start of the flame this year, let's do it under the stars on a landscape just waiting to come to life.
And so we call to the creators, builders and artists of Second Life: Bring this barren playascape to life. Ancient meteor showers pockmarked the playa full of craters – claim one (choose a size ranging from 28m to 36m in diameter), then conceive, build, and enliven this landscape. Will you create a past, present or future in your crater?
Some craters will overlap – make your Communal Effort, finding new friends by getting close. Recycling bits of past builds is encouraged if you choose to look back. We love recycling! Perhaps you'll show where we are now, the present. For the future, give us some Radical Self-Expression! Make something new in your crater, something 'out there,' 'far out there', far into the future. Where are we headed? Or, what is headed here?
Announcing the winners of the CONCEPTION, 2014 plots for artists and builders!
Neeks Karu 
Veyot
johannes1977 Resident
Neo Deezul
TheSomnium Resident
Ginger Lorakeet
polkamatic feller
Zanna
Betty Tureaud
Solkide Auer
Eif
stardove spirt
lagu indigo
Cienega Soon
Giovanna Cerise
Krystali Rabeni
FireFury Burns
TheaDee
Concrescence
Bianca Bender
Livio Korobase
sirhc desantis
sulumor romulus
Alesha Hax
iSkye Silverweb
Herbie Haven
Lauston Oh
All our artists and builders have been working hard to create the BURN2 Playa into a moonscape!   There's lots to do and see on this moon! This is a week long event.  Performances are going on daily so come by often and celebrate, participate and get to know BURN2 burners. See you there!
If you would like to volunteer at this event, please use see our Volunteer page for more information.