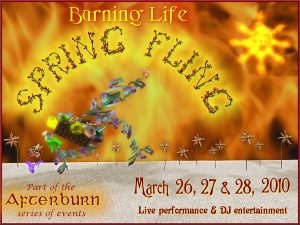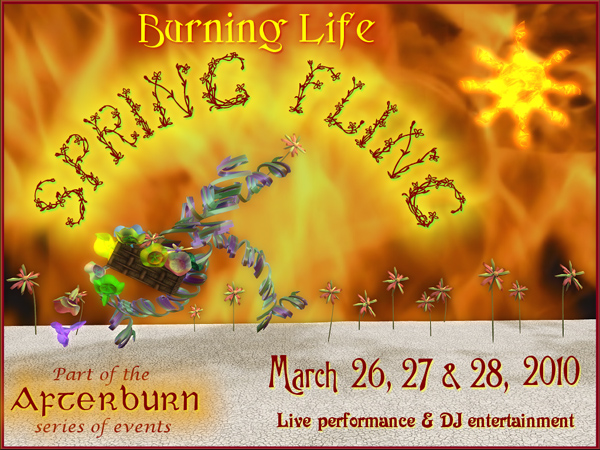 Burners! Discard Winter at the Burning Life Spring Fling!
Friday, March 26 – Sunday March 28
Time to light lamps and drum drums! Time to dance the night and day away on two stages! Time to Burn!
Take the time to carpe three awesome diems packed with stuff to check out…
TWO PERFORMANCE STAGES!
One features a schedule of great LIVE PERFORMERS, the other features SL's HOTTEST DJs. Get your hud on and get moving! You can see the schedules as google calendars online (urls below ) or you can check out the event boards outside each of the stages or in the infocenter. New stage builds by Rails Baily (DJ Stage) and Nyx Breen (Live Stage).
SLurl: Burning Life – Live Stage   …   https://www.burn2.org/calendar-live-stage
SLurl: Burning Life – DJ Stage    …   https://www.burn2.org/calendar-dj-stage
PORTA-POTTIES!
Need we say more? A huge swath of the Playa has been set aside to display a huge collection of this long running BL tradition. No need to hold your nose, the ventilation is SL's best.
SLurl: Burning Life – PortaPotty Exhibit
LAMPLIGHTERS!
One of Burning Life's proudest traditions continues with a new Lamplighter Village and lamp spires by the team of Kell Babenco, JeanBaptiste Eilde, Desdemona Enfield and Valley Parmelee. Drum. Light up the Playa. Regular processions and fire dancing. The general event calendar will let you know when. You know it. You love it. Be there.
SLurl: Burning Life – Lamplighter Village   …   https://www.burn2.org/calendar
RANGERS!
BL's crew of helpers and sanity keepers will be around. Feel free to say hi or drop in at the Ranger station by Corvaire Wind in Gerlach for assistance.
SLurl: Burning Life – Ranger Station
MEDIA MECCA and INFOCENTER!
We've got a new infocenter built by Aeneas Beaumont. It's packed with everything you need to know – a playa map, all the event boards (courtesy of CodeBastard Redgrave), new subscription boards (courtesy of Sasun Steinbeck) to mailing lists to save you group space and a stage for use by media looking for a spot to anchor their BL coverage. Got a question? The answer is probably there.
SLurl: Burning Life- Media Mecca and Info Center
CLASSICS!
Stop in at the gates and check out the gift tent. If you've never hit the playa in one of the many zany modes of transport in the Department of Mutant Vehicles, now's the time. Cruise through the outstanding "What is Burning Life?" exhibit by Poid Mahovlich.
SLurl: Burning Life – Gates and Gifts
SLurl: Burning Life – DMV Diner
SLurl: Burning Life – What Is Burning Life?
TIME TO BURN BURN BURN BURN BURN!
---
Spring Fling is part of the afterburn series of events, which occur year-round. For further information or media coordination, contact Raven Haalan, Communications Lead.