One of Burning Man's Ten Principles is Radical Self Expression.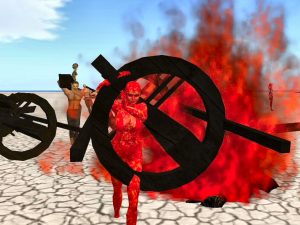 As part of that Self Expression, Burning Culture includes nudity and decorated nudity.
For BURN2 we see it as an opportunity to celebrate Burning Culture while watching The Man burn under low lag conditions! We do this by showing up with Avatars in just a skin, no prim attachments, HUDs or scripts at all, so we have minimal Avatar Rendering Cost (ARC) slowing down the Virtual Playa server. First tried in 2010, this event was an instant hit. We're bringing it back again to the Virtual Playa with the Skin Burn on November 12th!
To get to the Skin Burn sim, BurningMan – Silver Seed you must be in the Skinburn Group and have activated the Group tag. To get the Group Tag you have to go through a check to make sure you are low lag in just your skin. All the details are below! Hope to see you all there.
Date: November 12, 2011
Times:
Check-in will be from 10:30am – 12:00 Noon SLT (See Below)
DJ music will be playing from 11am – 3pm SLT.
The Man will burn at 12:30 pm SLT.
Location: BurningMan – Silver Seed
How to Check In and Get a Group Tag:
You must check in off sim before the event to get a group tag. You will be checked for low ARC and low script count. Allow at least 30 minutes to check in.
Check in at http://slurl.com/secondlife/Sonyo/36/240/401.
See one of the helpful Rangers at check in. Once you are passed you will be invited to the Skin Burn Group and you will be given a landmark to Silver Seed. Check-in will be from 10:30am – Noon SLT and will then close, no exceptions. Get there early!
If you don't have a skin, free art skins will be available at the check in area!
FAQs
Can I wear a nude skin? Yes!
Can I be in an art skin that is abstract? Yes!
Can I wear my AO? No!
Can I wear my hair? No!
Is this really allowed with a Moderate Sim rating? Yes!
More Questions? Please contact Ladyslipper Constantine or Gemma Cleanslate in world.