Press Day at Da Vinci's Workshop
October 14, 2016
12-2pm and 7-10pm SLT
SLURL: http://tinyurl.com/jtez452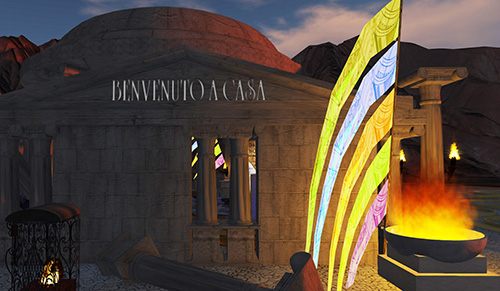 "Welcome Home!" we say to Burners and friends! "Benvenuto a Casa !" in the language of Leonardo da Vinci – artist, inventor, eternally inquiring mind. We are calling out across the grid, welcome Home to the Playa! You're invited to our next Big Burn we call Da Vinci's Workshop set to open in just two weeks!
The playa is now filled with camps of every sort, creativity overflowing, inspiration radically expressed and the dusty air is rich with anticipation and excitement. Musicians tuning their instruments, dancers going through their steps, DJs planning their playlists, and artists continually adding more gifts and mischievously fun touches to their camps.
And oh, the Man will Burn! As is our annual custom, we will Burn
the Man on Saturday the 22nd of October, followed by the Temple Burn on Sunday the 23rd. You are all invited to come share in the tradition once again – the events will be noted on the BURN2 calendar, found via the menu at left on this website.
Press Day
The Press are invited to come and visit on Friday the 14th of October, our Press Day, during two periods when the playa will be open for their visit. It will be open exclusively for the press to enjoy the playa views and find things to hint about. Simple fill out a Press Pass Signup so that we can tag you for special access at the following times on the 14th of October:
12:00pm – 2:00pm and 7:00pm – 10:00pm
Performances
There are still slots available on the DJ and live performers schedules for the weeklong festival! Contact one of the following individuals inworld to sign up:
DJ Stage
Tracer Graves
Fifi Candyfloss (siouxsieincognita)
Leondra Larssen
Live Performers
Cuga Rajal