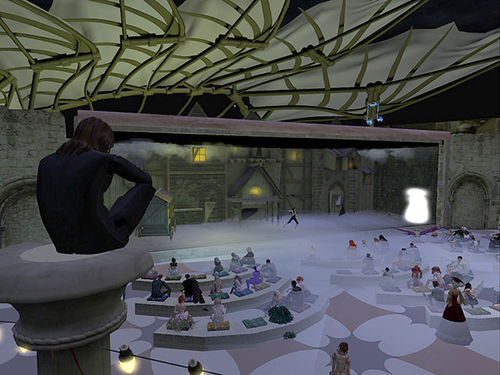 Since last Saturday, da Vinci's Workshop has been open and BUSY! Artists have completed their installations and music has been bouncing the playa amid much merriment and celebration.
The party continues through Sunday night – don't miss it! There are three stages, little surprises tucked into a number of camp plots, catacombs to explore – which is incidentally the starting point of a hunt. Cuga Rajal's Thunderdome has proven a popular way to work out on
e's frustrations amid much laughter and joking. The Lamplighters' twice daily processions are an adventure in themselves while also providing a means to glimpse a good number of beautiful builds. There is even a walk-in camping area where you can set out 25 prims of camping gear for a little "home" to call your own during the festivities.
Visit our Facebook group, BURN2 Burners in Second Life, and our Flickr group pool to see a sampling of the fun that awaits you. Come, dance, play, and be inspired by the very spirit of Leonardo da Vinci himself!
Start at the welcome gate here: BURN2 Welcome Area – Gate
For more details about performances: BURN2 Calendar of Events
To visit the artists' builds: BURN2 Artist Builds Locations