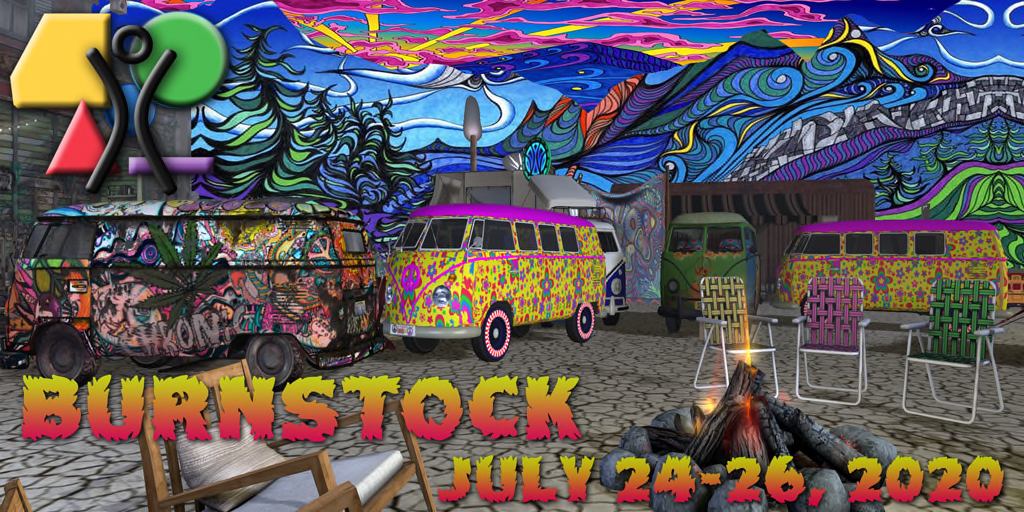 Burnstock Opens!
Burnstock opened Friday the 24th of July and runs through Sunday the 26th. This is our annual fundraiser with donations going toward the cost of additional sims for our October "Big Burn" event, themed "The Multiverse" in 2020. A varied lineup of performers shall grace the stage.
Aislen
Alchemelic
Akilikos
ChangHigh Sisters of Light, Life & Love
David Perdu
Dippy
DJ Celeste
DJ Puddles & the Space Unicorn
DJ Spitfire
djtitters
Dude
Fashionistas @ Burn2
Goddess Oksana & Six Seconds to Russia
Guitarhero Dougall
Effinjay
Female
Fil Rowans
i0n
Ren Enberg & Quai
SaraMarie Philly
Shiny Journo
Troylosophy
Veo Voom
~Vampink Show~
Along with these great music acts, there are some fun games to play and things to do, including a motorcycle rally and popular Burner icons like the Thunderdome.
Bring friends, hang out in the VW bus camp, snap a photo or three of yourself sat on a cool motorcycle in the photo booth, meet friends, and perhaps even discover a performer sound you've not heard before!