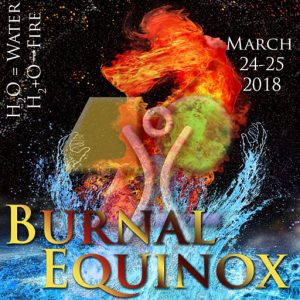 Creative Burners near and far, we call you to sign up and participate in the next event to take place on the virtual playa on Deep Hole: Burnal Equinox. The event dates will be March 24-25, 2018.
The Theme is "H2O = Water but H2+O -> Fire"
What does this mean? It is in two parts. The first we all know, that H2O represents WATER. But…the second part is not a chemical formula; rather it is an attempt to describe the process of combustion that results in FIRE. Both utilise hydrogen and oxygen, but manifest in different ways.
This excerpt from The Urantia Revelation may inspire ideas for creativity in building, art, and music for this event:
"Mathematics, material science, is indispensable to the intelligent discussion of the material aspects of the universe, but such knowledge is not necessarily a part of the higher realization of truth or of the personal appreciation of spiritual realities. Not only in the realms of life but even in the world of physical energy, the sum of two or more things is very often something more than, or something different from, the predictable additive consequences of such unions. The entire science of mathematics, the whole domain of philosophy, the highest physics or chemistry, could not predict or know that the union of two gaseous hydrogen atoms with one gaseous oxygen atom would result in a new and qualitatively superadditive substance—liquid water. The understanding knowledge of this one physiochemical phenomenon should have prevented the development of materialistic philosophy and mechanistic cosmology.
"Technical analysis does not reveal what a person or a thing can do. For example: Water is used effectively to extinguish fire. That water will put out fire is a fact of everyday experience, but no analysis of water could ever be made to disclose such a property. Analysis determines that water is composed of hydrogen and oxygen; a further study of these elements discloses that oxygen is the real supporter of combustion and that hydrogen will itself freely burn."
The event will officially open with a walk-on by the Lamplighters at 10:00am SLT on March 24th, and Burners are welcome join us in the fun.
In the meantime, we come together as a community to prepare for this event. You are invited to PARTICIPATE, because no Burner is a mere bystander on the pixel dust of BURN2's Deep Hole playa that is our virtual Home. There are several ways in which you can do this.
Build on a Plot! 
Plots are free, but limited in number. Begin planning your creative build – plots on the playa will open for building starting the 27th of February. Placement will contact you starting then for you to choose your plot.
Sign up early! First come, first served get the plots!
Perform on the Stage!
The stage, a quarter circle, will be specially built for this event, where many can gather to listen, to dance and to enjoy this opportunity to celebrate the Equinox that brings the change of seasons and sunlight.
Sign up on this form and a member of the Performance Team will contact you to schedule your performance.
Become a Fashionista!
Sign up to be a model in the fashion show at Burnal Equinox!
SHARE the News About This Event!
The planning committee for BURN2 selected three posters to use to tell your friends and neighbours about the event. These posters will be distributed inworld through the BurningMan 2.0 group notices, or you can contact iSkye Silverweb in world to get them.