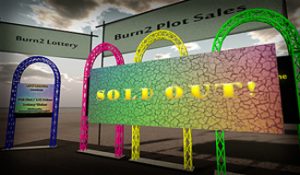 Just days before building opens, Burn2 has sold out of all available parcels. The event will boast six regions of art and entertainment thanks to those who have bought parcels and donated land and lindens to the event. A big thank you for all of us with Burn2 for your generosity and support!
If you still want to be a part, though, it is not too late to enter the parcel lottery! Simply touch the Lottery Vendor athttp://maps.secondlife.com/secondlife/Burning%20Man-%20Deep%20Hole/225/83/25 . Parcel winners will be determined on Friday, the 7th of September!
You can also still apply for a parcel through our Juried theme camp/art installation application.  Deadline is Saturday, September 8 at noon SLT. We are looking for highly interactive experience, lots of on playa events, art, awesomeness, and FUN! Yeah, we know the application is a PITA, but we gotta know about you!
We're also always looking for entertainers. You can sign up to perform at one of our stages here on our website. We also welcome everyone Gridwide to come to the playa and celebrate!
And remember: Burn2 opens to the public on the 20th of October, 2012!