From 2014-11-19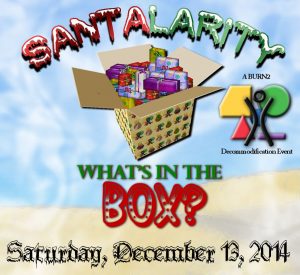 Once again, we bring our unique style of winter hilarity to the playa, with snow and ice covering the dusty ground and Burners' visions of the season scattered around. Santalarity is BURN2's decommodification event, the antithesis of the typical rushed holiday season focused on profits and buying, on unrealistic expectations and joy found in aisle three.
Instead we ask, "What's in the Box?" What do we want to give? We invite you to come to the playa, to observe artists' interpretations of these questions, to ice skate, dance, drum and be present when we Burn the Box. Before the Box is burned messages left by visitors to the playa will be read, which shall express what they would like to give. To give without expectation of return. To give for the pure joy of giving.
Santalarity will be a 24-hour event, opening on Saturday, 13th December at 10:00 AM SLT/PST. The Lamplighters will kick off the event with an initial drumming. The Box will Burn on the 13th at 12:00 PM SLT/PST and again at 8:00 PM SLT/PST.
Artists and builders are invited to apply to build on plots to the theme, by submitting an application
Theme for BURN2 2014 Santalarity: "What's in the Box?
Date and time of this event: Saturday, December 13, 2014 starting at 10:00 AM and goes on for 24 hours.
What would it be like to just give? At this time of the year, a time of giving for many, let's explore this. Using the Burning Man principle of gifting, this event will invite builders to demonstrate the art of gifting and to build their artistic expression to show their thoughts and perhaps even answer the question, "What I would like to give?". We invite you to share what the principle of pure gifting, with no expectations in return and no commodification, really means for you.
What are we burning? A big box! Builders and participants can come to the playa during the build period and the event to drop personal messages answering that very same question: What I would like to give? They can choose to add their dreams, wishes, stories, blessings and prayers, notes of enchantment for each other and whatever else burners want to share in celebration of our community.
Messages will be placed in a receptacle in the shape of a box. The messages will be read off immediately before the Box burns at the scheduled Burn times.
If you are interested in creating a themed build at this year's What's In The Box event, please know that this event is not about a celebration (or lack thereof) of any religious holidays, it's about decommodification and gifting.
We will have a limited number of plots available for building. The criteria for the build are as follows:
1. Ground based build
2. Plot size will be 24m x 24m and 250 prims with which to be wildly creative
3. Illustrate any or all of the Ten Principles of Burning Man, especially Gifting
The build period opens 12pm SLT on 23rd November, closes midnight SLT 12th December.
Please submit information in the form and we will contact you shortly.
– plots are free.
DJs and live performers interested in participating during the event can sign up using the form. If there are questions about performance scheduling, contact BURN2 Performance Lead Larree Quixote inworld.