We had such fun over the weekend with all the builds, egg races, pancake races and FOUR breakfast burns. The Love Shack and bowling alley added to the fun.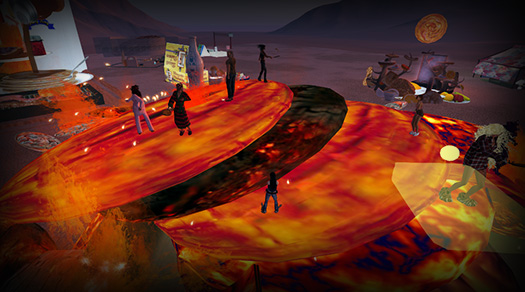 All the builds are being left up all week, so you can bring friends and come visit. Cuga will reprise the Bacon Man Burn two more times this week with DJ Suzie spinning the tunes:
TUESDAY 5 December at 8:00pm SLT (PST) and SUNDAY 10 December at 8:00pm SLT (PST)
For anyone interested, you can come to a Burn-in-a-Box workshop with Cuga Rajal this week Thursday, the 7th of December at 8:00pm SLT (PST). That's just before our weekly BURN2 Planning meeting at 9pm SLT. Those who have builds on the playa for the current event will get the opportunity to set up their builds to burn down on Sunday!
Don't miss the last chances to watch the Bacon Man BURN!