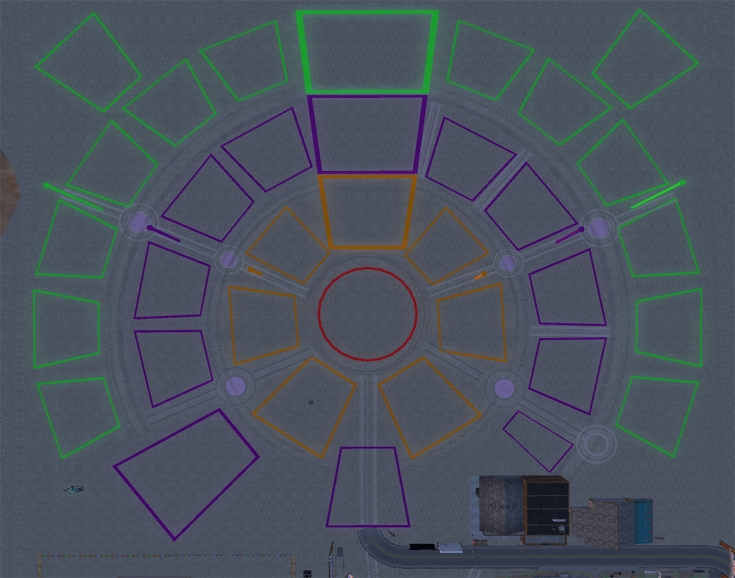 She Waits - Tempest Rosca
Waiting for that perfect moment in time...
Putting on the Burn - Johannes Huntsman
1920's burn plot with modern elements.
Lost in the 4th Dimension
After August's visit to the past, let's move into the future!
Let's Go Back - August (onthesound)
An Egyptian scarab gate with a clock that runs backwards with two statues that appear both ancient and futuristic. If we can figure out how, the clock could be switched to go forward or back.
The Mask - Deyanira Yalin
Masks creating something nice.
Retro Future Vacation - Alesha Hax
Vintage 1950s ish campsite with hidden surprises!
Plasma Firepit - dz questi
A 10P themed firepit with a future flair, as well as a small tent and some "special effects."
Message from the Future - Mia Wallace
Burners sent a message from the future...
"It Was Better NEXT Year!"
Hiba - Towa Etzel
Yesterday Me! Wake Up Tomorrow Me!
The Time Tunnel - DoctorKen (Indy)
Alchemelic Crystals - Alchemelic
A crystal landscape with colorful textures.
Superluminal Time Travellers Inc. - Ron Rendar
We examine closed timelike curves (CTCs) and 'effective' superluminal travel in a spacetime containing naked line singularities, which we call 'wires'. Each wire may be straight-line singularity or a ring singularity. The weak energy condition (WEC) is preserved in all well-defined regions of the spacetime. (The singularities themselves are not well-defined, so the WEC is undefined there, but it is never explicitly violated.) Parallel to the wire, 'effective' superluminal travel is possible, in that the wire may be used as a shortcut between distant regions of spacetime.
The Cacophony Society - Herbie Haven
Space Kitten Lounge - MirandaNomad
Feline sad? Let us Whisker you away to the Space Kitten Lounge ~ where we we inspire you to stay PAWsitive, cause you've got purr-sonality!
Have a meow-tini at the Space Kitten Lounge, and soon you'll be feline good.
Follow the red laser dot, to the most PAWSOME hangout spot!
Rainbow Serpent - Sir Galtier
It's a build representing the rainbow serpent a snake god in aboriginal methology and the build will also be a representation of Australian spiritual festival.
The Butterfly Effect - Shimada Yoshikawa
An exploration of the perils of time travel to the past has a negative effect on the future.
Shipped to the Future - Marcel Mosswood
I will build a ship that has an ancient back and a futuristic front.
Cobbie's Cuddle Puddle - Cobbie
CCP is a community hangout. Shade tents provide a place to chill, relax with your friends, and make new ones! Grab a cold drink, bottle of sunscreen, or play a game of Doodle.
The Mirror of Backwards and Forwards - Zombie Cupcake
A big Mirror that lets people travel forwards and backwards to the past present and future.
Fallen Machine - MochaMaster
A box, time machine, with colours and activity to do,flying art photos.
Time for TEA - Zoren Manray
The best time is tea time.
Before the time it's not the time after the time it's not ti - Barry Richez
Build with an atomic clock.
It's About Time - Bellibutton Jewell
Riddles of time. Guess the saying.
Dali Chicken - Bar Tenk
A contemplation upon the Chicken and Egg Paradox.
Is it even a paradox in a timemachine context?
Or can it be seen as a Quantum physics..  OH! Look!  A butterfly!...
Always Infinity - Francis Bagration
Rotating structures of color changing goodness.
Ubermorgen Jetzt - DanceHike
Interactive optical art playground
Black Rock Through the Ages - Cuga Rajal
Main Stage
This is where the stage is! Screens to view, tunes to groove to, and all around awesome place to meet with friends!
Dance Floor Between the Stages
This is where the action is! Dance, sit, watch Burns and performers and it's "somewhere in time."
BOB Stage
This is where performers with their own stage sets can rez and perform! BOB is "Bring Own Build."
Effigy
This is the centerpiece on the playa! The build that is DOOMED to burn! This will happen Sunday 22 May at noon and 6pm SLT.
Burn2 Fashionistas Camp & Stage
This will be the location of the Burn2 Fashion Show, Sunday 22 May, 2:00pm SLT.
Burn2 Rangers
The Rangers ride the edge of chaos, they are your friendly helpers during events if Burners need assistance.
The Lamplighters
The Lamplighters come in robes and bring the fire to the playa. They will perform processions and fire dances at the event. Catch them in their walk-on at 5pm SLT Friday the 20th. Walk with them on their processions, then join the audience on arrival to watch the Fire Dancers perform, at 5pm and 11pm SLT Sunday, 22 May.
Gate/Welcome Area
This is where you pass through onto the Burnal Equinox playa! Be sure to grab some fun gifts, find the art car rezzer to drive around, or simply walk through to see all the art and enjoy the timely tunes all over the playa.