(Blog Post Two)
The art on the playa is truly awe-inspiring, built and presented by the many artists & builders that have filled our six-sim for Octoburn Metamorphoses. As one of the artists on the playa pointed out to me: "we're all artists". It's true and it shows!
The feedback we've been getting has been overwhelming in a wonderful way. Everyone keeps commenting on how beautiful the playa looks and how fantastic the art is. So, if you've not done so already, we invite you to pay us a visit: Burning Main Regional Burn2 - Deep Hole.
While on the playa, stop by and see the camps and artwork (listed by SIM):
Deep Hole (Landing SIM)
AugustNorth (OnTheSound)
Bar Tenk
Elvellon ed-amrûn (Skangaselanos Kariunga)
Herbie Haven
Leondra Larsson
mayaeight
MayFly
Radioactive Rosca
Sifra Ceawlin
Evolve (Live Stage SIM)
Anibrm Jung
Cassie Parker (TerpsiCorps)
Cuga Rajal
Daark Gothly
Eylinea
Freestar Tammas
Goddess Oksana
Ilianexsi Sojourner
Lillian Lefevre
Nimuee Morahan
serra Qendra
Tracer Graves
Vickie Maidstone
Vixxen Violet
vroum Short
Chrysalis (The Man SIM)
Caro Fayray
Cuga Rajal
etamae
Fran Gustav
Herbie Haven
iSkye Silverweb
Macha Triangle
Melodie Chanteuse (melodiekraai)
Mia Quinote
Isadora Alaya
Phatty Z
Pygar Bu
Slatan Dryke
Temba
Towa Etzel
Vixen Quandry
Xiija
Diachrony (Main Stage SIM)
Aneli Abeyante
Anouk Mikoyan
Babe
Brynn Rae
proton d-oo-b
Evola Courtois
Francis Bagration
ilyra Chardin
iSkye Silverweb
JeanBaptiste Eilde
kalyca McCallen
Lee1 Olsen
Mia Quinote
Moya Patrick
Phatty Z
Pianoman
Solkide Auer
Wisdom Davi
Alchemy (The Temple SIM)
Anouk Mikoyan
Barbs Kurka
Blaze DeVivre
Cherryblonde Scribe (Camp Thea Dee)
Daark Gothly
Dakini (Daikinilove)
deyanira Yalin
Elle Thorkveld
freia Guillaume
Hallix
iSkye Silverweb
Kerupa Flow
Marcel Mosswood
Mélodie Heart (mariemadeleine38)
Shendara Destiny
Fifi Oh
Sophie Dunn
tanja Kurka
Tori Herbit Landau
Anarchy (Relaxed Rules SIM)
Adrian Harbinger
Adwehe
AliciaParker
andreajonesms
candyflossfifi metaharper
Cuga Rajal
FrankRambler
ilyra Chardin
iSkye Silverweb
Mania Littlething (MetaHarpers)
naturalway Flow
REGI YIFU
Shenn Coleman
Spread Eagle (Hombre11)
Thomtrance OToole (Organica)
Tozh Taurog
Ty18
Veleda Lorakeet
XiledSol
Our Team
We also want to bring up and show off our team. Our Drive-By Poet (Laura aka Aola Tyrian (Ratatosk Independent)) is once again on-hand to assist by providing extraordinarily unique poetry for some of the side and small builds done by our team leads.
Core Team Leads
Miss Suzanne Super Sweet (SuperSuz Resident), Burning Man Regional Contact for Burn2
freia (Freia Guillaume), Volunteer Coordinator
iSkye Silverweb, Placement Lead
Shendara Destiny and Leondra Larsson, Rangers Leads
Cuga Rajal, Burn2 Educator, Burn2 DMV
Ƒїƒї 0ђ (siouxsieincognita Resident), Burn2 Educator, Performer Coordinator
Macha Triangle, Greeter Lead
Vickie Maidstone, Fashionista Lead
ilyra chardin, Artists Curating Committee (ACC) Lead
Burn Teams
And now, to highlight those amazing talents that bring us: The Man, Man Burn, the Temple, and the Temple Burn:
The Man
Man Build: Herbie Haven
Man Burn: Katy (KhatLuv)
DJ: Maia Antarra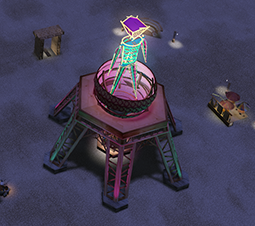 The Temple
Temple Build: Daark Gothly
Temple Burn: Pianoman (P1an0man Resident)
DJ: Ktahdn Vesuvino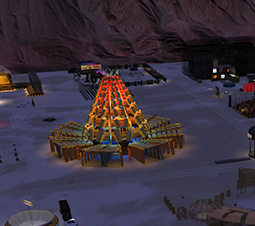 Poetry by the Drive-by Poet
Metamorphoses of a Meme by CandyflossFifi MetaHarper
Sit and talk about anything.
Or play a game around the swing!
By the campfire, is a consent!
We want Rick Astley for PRESIDENT!
Laura, visiting October 9, 2019
Ode to the Airstrip Club - Herbie Haven
What is a war bird without a story
about flying skills, courage and glory!
Your fantastic, vintage, TIGER CUB,
grants you access to the Airstrip Club!
(At Herbie Haven)
Laura at Octoburn 2019
Obelisk I by Cuga Rajal
Ain't not taking any risk,
when numbering this OBELISK.
To be all certain all the day,
I call the creation: Number A.
Laura, visiting in October 10, 2019
Send in the Clowns by ilyra chardin
Send IN the clowns, I plead and pray!
Send in the CLOWNS to light my day!
If ALL the clowns had gone away,
my day would be so glum and gray.
Laura, visiting in October 10, 2019
Fire Pot by Macha Triangle
Some like it hot, if you like it, or not!
Making a hot spot inside a pot!
Don't sit in the soup! - you are advised
Why not? Is the pot not securely stabilized?
Laura, visiting October 9, 2019
Flaming Swings by Cuga Rajal
The swing set is running with a turbo jet.
It is not an ordinary one, it might make you sweat!
Hop on board, take a swing what could ever go wrong?
And BURN ON, Baby! BURN ON! BURN ON!
Laura, visiting in October 10, 2019
Blobs are Beautiful by iSkye Silverweb
I wish I could be any form that I liked!
With forms that were rounded, angled or spiked!
With colors actuating my temper and mood swings...
Blobs are the prettiest, most beautiful things.
Laura, visiting in October 10, 2019
Please reach out to ilyra chardin with any questions.