Burn2 Car Races and Car Wash Fundraiser is coming this Saturday!
There will be music all day, a racetrack with car races, and the famous car wash. Rez and race your own car, or rez one from our art car collection, get it squeaky clean at the car wash, and enjoy music all day. The last race ends at 6 followed by music and dancing into the night.
The event is a fundraiser for the extra sims needed for Burn2's annual event in October. All donations will go towards the extra sims for this upcoming Octoburn.
Saturday May 26, 10am – midnight
At BURN2 Burning Man Regional in Second Life
Burning Man- Deep Hole:
http://maps.secondlife.com/secondlife/Burning%20Man-%20Deep%20Hole/79/72/25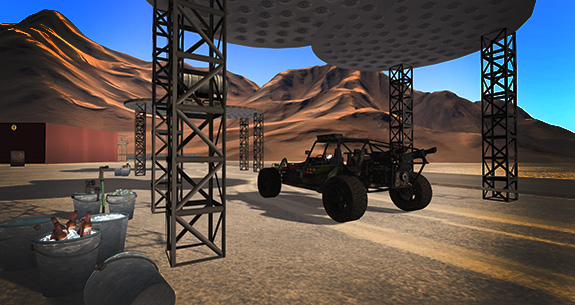 The track is open all day except during organized races. Race signups will be available on the day of the event.
12 noon – 12:30pm – Fast Car Races
2 – 2:30pm – Chariot Races
4 – 4:30pm – Motorcycle races
5:30 – 6pm – Art Car Parade (meet at Sandbox at 5:15)
Don't be caught with "Wash Me" written in the dust on your hood! Get you car washed or come wash cars with us!
We are also hosting Art Car Building workshops at Burn2 on Thursdays at 7PM SLT/Pacific. Learn how to build your own art car and then bring it to the races!
For music performer information please contact  Laurie Alexis or Taj Nishi inworld.
For other information about this event, contact Cuga Rajal inworld.