At Conception we look back to the roots of our regional in SL, reaching back to Burning Man. How the years have flown by!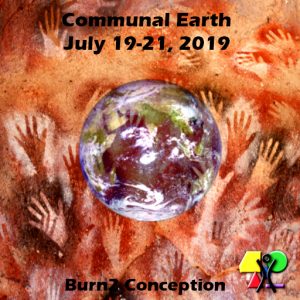 Our past event themes often relate to the Earth – Fertility, Balance. Our virtual Regional is comprised of Burners from across the world and all of us are concerned about the damage to the planet, and the realisation that the cause of it is us. Recovery from the damage must also begin with us. And so the community's choice of theme for this next event on Deep Hole will be Communal Earth.
What is this theme about? It's a concept around the communal effort needed to remember the origin of Earth and for everyone on the planet to preserve and heal it. We remember our roots, the first stirrings of life, and how we got from there to here, and recognise the impact our existence has had on our mother Earth. There is no magic bullet, no single solution to solve all the Earth's problems. Therefore, it is on all of us, each in our different ways that we can do, to find and apply healing. In the process, we will see that we are all in this together.
Lamplighters will help to open the event with a walk-on to lead everyone from the Welcome Area to the main stage. All are invited to join us as we walk!
We've got Greeters getting their gift packs ready, Fashionistas making their plans, and a variety of interesting activities in various stages of building underway.
Artists and performers are invited to sign up for FREE plots and time slots! Signups are now open. All signups will be first come, first served. Read the information on the pages before you proceed to sign up.
Mark Your Calendar and SHARE the News!
We look forward to welcoming Home Burners and community, to explore the builds and enjoy the music that will fill the air over the playa the weekend of July 19-21. The BURN2 Calendar will fill up quickly as performers sign up and we get closer to the event opening on the 19th of July.
We will, of course, feature a burn. You will see an effigy called "Corporate Conglomerate for Consumerism and Conspicuous Consumption," nicknamed CC4CCC. The giant CC4CCC Mascot is slated to burn!