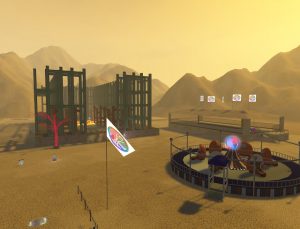 Body Painted (females), Sky Skating, Porta Potty Building Dancers…All at Community Day Friday, August 5th.
The sun is coming up on Silver Seed and preparations are almost complete for the Burn2 Community Day on Friday August 5th.  Everybody is invited and there will be a lot going on so I'll try and give you an overview of what to expect and look for.
The event officially runs from noon to 8:00 pm slt, but if you want to come and play on the rides or work on a porta potty before then you are very welcome. 🙂
The music schedule is as follows:
    Music: Disco, Latin, House
    Dance, Trance, Electronica
    Blues, Classical, Folk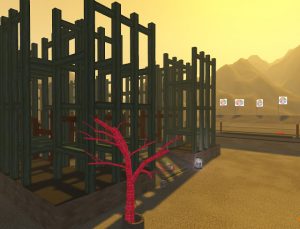 While music is playing throughout the sim there are carnival rides to enjoy.  Some are "traditional" like the two ferris wheels and the tilt-a-whirl.  But there are some wild "swings" and sky skating, along with a maze and both a kissing booth and a dunk tank.  The bumper cars, merry-go-rounds, bouncy castles and giant slide just add to the fun.
There are gifts for you which include, yes, "body painting" for the women.  You'll be able to express your individuality and show off your physique all at the same time.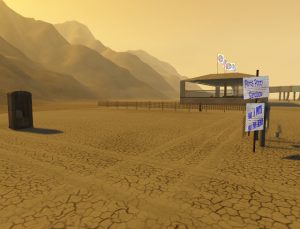 We need to right the wrong done to non-humanoid residents by ensuring that there are porta potties which suit their needs.  So the sandbox is ready and open and just waiting for creative builders to add to the Burn2 landscape this coming October.
This is intended to be a day of fun, a way to start getting excited about the event in October and to get back to the playa.  We also want to remind you to get your plots and if you can donate anything to feed the Burn we'd appreciate it.  Remember all funds go to acquiring sims for Burn2 – without you there won't be a festival this fall.
I hope to see you there tomorrow!  Tell your friends, families, strangers on the street and come party with us.