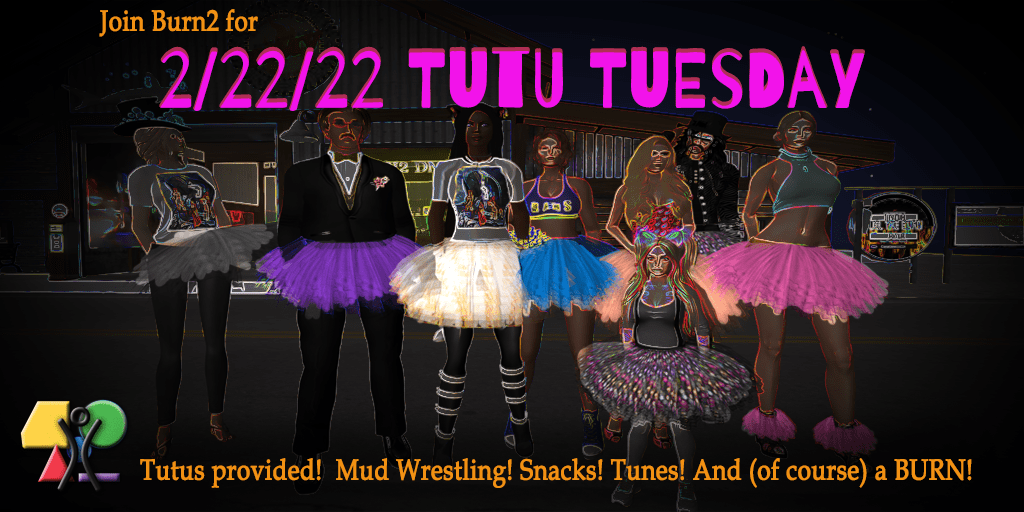 2/22/22 Tutu Tuesday
Performer Booking
Wear Your Tutu and Bring Your Tunes!
February 22, 2022
Times given are in 12 HOUR FORMAT (WITH AM/PM) SLT/US PST between NOON on the 22nd until 12am on the 23rd of February.
Performers must be in Burn2 Access group, with the Burn2 Performer tag.
DJs 1 slot = up to 2 consecutive hours
Live singers/performers 1 slot = 1 hour.
*** WATCH THE BUTTONS WHEN YOU CLICK TO SELECT A TIME ***
After selecting your slot(s), scroll down below the calendar to check your booking selection.
NOTE: NO STAGE HOST SUPPORT. You must already be in the BURN2 ACCESS group with a performer tag, and know how to put your stream url into the land. YES- You can sign up for more than one slot! Just remember to show up, and have FUN!
FYI for Booking:
The hour between noon and 1:00pm SLT and also between 6:00pm and 7:00pm SLT will be when the burns will take place. They will start at 22 minutes past the hour, each time. Just so you know that the burn will happen during those slots.
** PERFORMER BOOKING IS NOW CLOSED! **